The Carters
are off limits. Simply put. The holy royal family is NOT to be negatively talked about or disrespected in any way, shape or form. (See
Keri Hilson
,
Keyshia Cole
&
Ne-Yo
for details). After those comments about Blue Ivy's hair were made on EBT's
106th & Park
by
Krispy Kreme
, mayjor moves were made by the Beygency.
As of now, one of the shows producers, who had yet to be named, has been suspended from the show AND the production of the show has been suspended for the next few weeks. EBT has went on to say that this was a "planned" hiatus, it's done every year and the Blue Ivy comments had nothing to do with the show being off air for the next few weeks.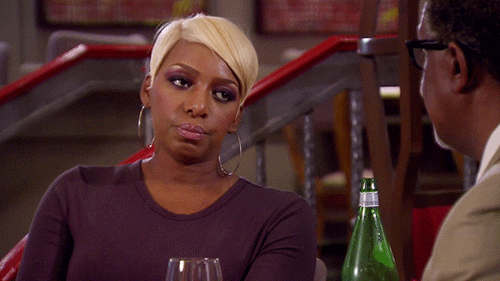 We are not fools. Beyonce had that shit shut down to the fullest!! See the report below.



BET has suspended a producer after a joke about Beyonce and Jay Z's daughter that aired Monday on the network's music video countdown show, "106 & Park."
A source at the network, who spoke on the condition of anonymity because the person was not allowed to discuss the matter publicly, said the producer was suspended after a remark about 2-year-old Blue Ivy's hair.
On Monday's show during a segment about Blue Ivy's hypothetical thoughts during Sunday's MTV Video Music Awards, guest host Karrueche Tran said: "I really did wake up like this, because my parents never comb my hair." Blue Ivy joined her mother onstage at the VMAs.
Stephen Hill, BET's president of music programming and specials, publicly apologized on Twitter.
"Last night on 106 & Park there was a stupid, unthoughtful joke made about a young child," Hill tweeted.
Hill also said the network privately apologized to Beyonce and Jay Z.





BET didn't immediately return an email seeking comment Wednesday.
Tran, who has dated singer Chris Brown on and off, tweeted Tuesday that she did not write the joke. She wrote: "Now y'all know I LOVE me some Beyonce and Blue Ivy!"




Hill also tweeted that it was not Tran's fault.
"We also apologize to her for putting her in that position," he wrote.
Source:
NY Daily News
EBT tried to toss shade for her not being present at the EBT awards show and giving MTV all of the shine. So they used Keepmesafe to do their dirty work and read the script about Blue's hair. EVeryone has apologized, BET, the president and Kaleidoscope. Though, it wasn't her fault....but no one liked her before anyway...so BOOM!